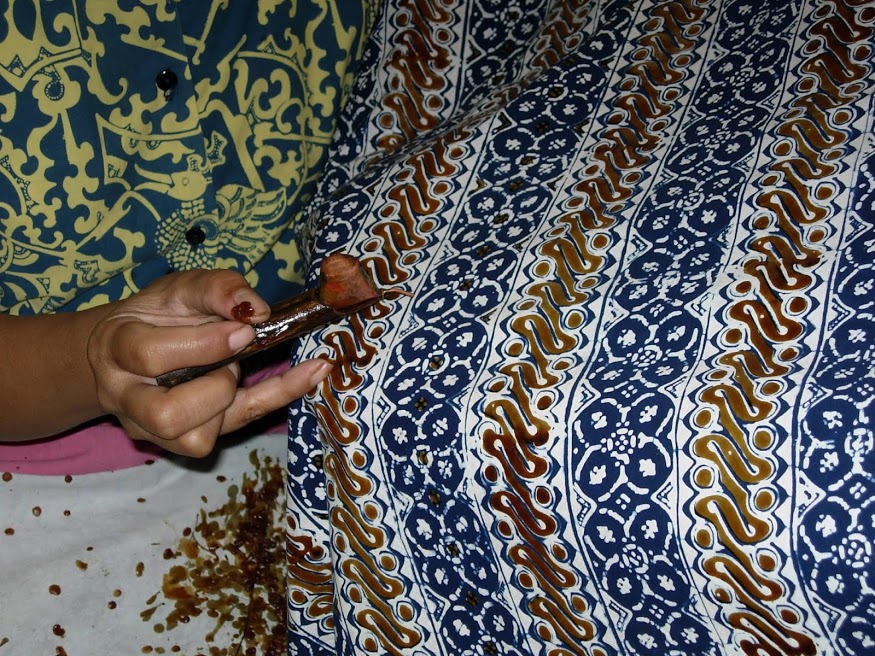 The Beauty of Batik
Cheryl Allison, Main Line Life

From Bali to Bala." No, it's not the title of one of those classic "on the road" movies.
It's how Laura Cohn describes the journey, physical and artistic, that led her from the verdant islands of Indonesia to the home studio in Bala Cynwyd, where she creates her unique batik paintings.
It's also the name she gives to her popular teaching workshops, school programs and annual shows, although in those cases, the travel is actually in reverse.
With slides from her frequent visits, music, food and displays of traditional handicrafts, the events are mini-voyages from Bala – or Ardmore, Havertown or Wayne – to Bali.
A local resident for nine years, Cohn, who is from the Midwest, first visited Bali and Java in 1988. Out of college with a degree in human ecology, she was working and backpacking through New Zealand and Australia when she decided to take a side trip.
She flew to Timor and got on a boat for what was supposed to be a 10-day cruise. She ended up staying for two months – as long as her tourist visa was good for.
That was when her "love affair with the country" of Indonesia began.
Besides the eerie beauty of the land itself, "What initially attracted me, and still captivates me," she said, is the seamless blending of art, life and religious devotion in the predominantly Hindu areas she visited.
Cohn was struck by the care and artistry people put into preparing the daily religious offerings of flowers and food they would set out. And yet, "A second later, a dog might come along and eat" these "absolutely exquisite" constructions. In contrast to Western art, which she observes is more "product oriented," these creations "are very ephemeral. The beauty and the joy are in the making of the art."
Cohn, who had painted in college, came to a realization. "Here was a place where I could live on $5 a day and just paint." She went back to Maine, where she had been living, and "waited tables for one more season" to save money, then returned to Indonesia for what would be a six-year stay.
She began painting, but, because of her academic background, also started working with a university in Bali on issues of sustainable tourism: "How it can help a culture, rather than overwhelm it," she explained.
In her art, necessity really was the mother of invention. Pretty quickly, "I realized that oil [paints] took forever to dry in the tropics," Cohn recalled. She started studying the ancient Javanese art of batik with a master of the fabric-dying technique.
In batik, a design is applied to fabric with hot wax, and the piece is dipped in dye. The dye does not penetrate the wax, leaving the design area untouched. Cohn said this process can be repeated many times. The wax is boiled off, new elements of the design are applied, and the fabric is dyed again, creating rich and subtle gradations of color.
For her, ironically, the painstaking technique was liberating. As a traditional painter, she had felt constrained. "The nature of painting with hot wax freed me up."
Traditional Indonesian batik fabrics are characterized by geometric and floral designs, often applied to lengths of material with heavy copper stamps.
Cohn used batik techniques, but employed them on more traditional Western subjects, creating figure paintings and Impressionist-influenced landscapes in muted color palettes that tend toward mauves, lavenders, blues and light cocoa browns. "It's a traditional technique interpreted in a contemporary way," she explains.
There's always an element of surprise. You never know exactly how the dyes will activate or how one layer will build on another. There's a certain amount of "giving up control" that Cohn came to appreciate.
During her years in Indonesia, she would return to the United States for a month or so each year, traveling to different areas to put on shows of her work.
It was on one visit to the Philadelphia area, where her parents were now living, that she met her husband, Bill, a freelance grant writer. By 1994, "I was ready to come back for good," she said. They were married the following year and moved into their Belmont Hills home six years ago.
There, Cohn continued to paint while teaching batik art classes at the Main Line Art Center. She also started presenting one- or two-week in-school programs. For several years, she has also offered adult and family batik workshops in the summer at her open-air studio. "It's like batik camp," she said.
The family workshops and school programs work the same way. Students create dozens of squares of batik fabric, which, in the case of a school, can be sewn together in a big installation piece. For a family, they can become a family quilt.
Cohn hasn't broken her ties with the islands. She visits for a month almost every year. She and Bill have been back five times, four with their son, Daniel, now 6.
Nor has Cohn lost her connection with Indonesia's people. Each November, when she holds her annual show and sale open house, she also features a variety of Indonesian handicrafts, which she purchases on her visits.
A portion of the proceeds benefits organizations in Bali, where Cohn said efforts to retrain workers are ongoing after the terrorist bombings in 2002 left the tourism industry on which Indonesia depends "very fragile." This year, the sale will benefit a new birthing clinic. The events and the crafts have become very popular, she said. "I serve tea and Indonesian food. There's music. People stay for hours."
Cohn is currently preparing for two one-day batik workshops with advanced art students at Lower Merion and Harriton high schools. She's also getting ready for her new session of summer workshops, beginning in June.
For information about the classes and the November "From Bali to Bala" show, call her at 610-667-5071.