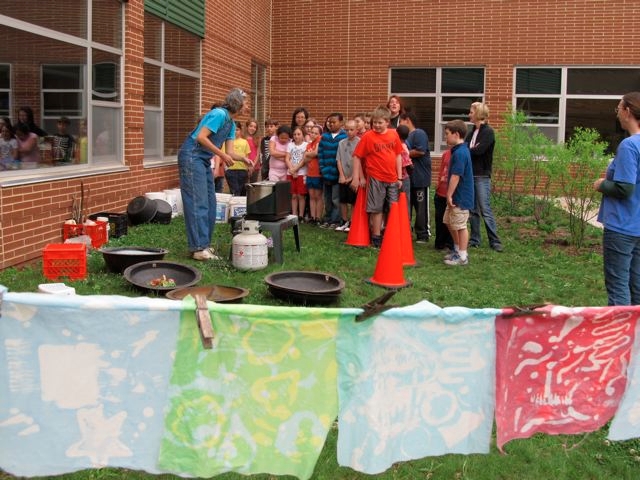 Dabbling in a Foreign Art
William Lamb, The Philadelphia Inquirer
HAVERTOWN – Bala Cynwyd artist Laura Cohn would rather teach fifth graders the traditional Indonesian textile craft of batik than have art galleries display the lush landscapes she "paints" in the style with hot wax and colorful dyes.
"I have shows in galleries," Cohn said, "but I don't like to because I like people to know a little bit about the process, rather than just buying it as artwork."
That's why Cohn, 36, felt at home last week as an "artist in residency" at Chatham Park Elementary School, guiding 120 fifth graders through batik's multiple steps. The setting afforded Cohn a chance to put the art in its proper context by introducing the students at the same time to Indonesia's culture and language.
"They've just been really eager and curious,' Cohn said as she mixed a batch of ruby-red dye into a bucket of hot salt water. "It's a good medium for kids because there are a lot of components to it. It's really kinetic."
Batik is a wax-resist method traditionally used to ornament cotton fabric with intricate, colorful patterns. Cohn learned it while living on the Indonesian islands of Bali and Java between 1989 and 1994. Most Indonesian artisans gingerly drip hot wax on the cloth with a tool called a canting (pronounced chanting) before dyeing it, or use an iron cap (pronounced chap) to stamp patterns into the fabric. But Cohn, who was an oil painter when she arrived in Bali, instead applies wax with sweeping brush strokes.
She encouraged her charges, hunched over 10-inch squares of cotton, to experiment with the cantings, paintbrushes and caps fashioned from kitchenware and cookie cutters that they found next to skillets of hot wax on four work tables.
"Think about the brush strokes and all the different textures you can make with the tools at your table," Cohn told students Wednesday morning as the sounds of a xylophone-like traditional instrument called a tinklet resonated from a portable tape player. "Remember, drips are just opportunities for experimentation."
Cohn brought the students outside to stir red dye into their creations, and had them count to five in Indonesian – words she had taught them during their initial meeting the day before.
"Satu, dua, tiga, empat, lima."
The students rinsed the fabrics and handed them off to Cohn, who removed the wax by dipping them in near-boiling water. The cloths' new, brilliant red pigment was interspersed with white patterns that marked where the wax had been.
As a corps of parent volunteers helped her hang the squares from a clothesline, Cohn told the students that the dominant religion in Indonesia is Islam, that Indonesians tend to carry things on their heads and that rarely, if ever, do Indonesians ask one another about their jobs. It's just not that important to them, she explained.
Unlike most of her classmates in Tim Bickhart's fifth-grade class, Julie Lynch, 10, said she had heard of the sprawling Southeast Asian nation of 17,000 islands before learning batik from Cohn.
"But I didn't know this much about it," Lynch said, rinsing wax off a cloth in a plastic wading pool. "Like how they listen to music or how they make their art, how they carry things on their heads.
"They carry everything on their heads," Ashley Aloi, 10, interjected.
Prompted by the parent volunteers, the students thanked Cohn as they trudged back to Bickhart's class at the end of their hour-long session, leaving behind squares to which they would add another layer of wax and dye the next day.
With a bow, her hands pressed in front of her chest, Cohn replied, "Sama sama" – an Indonesian phrase that she had earlier told the students means "the same back to you."