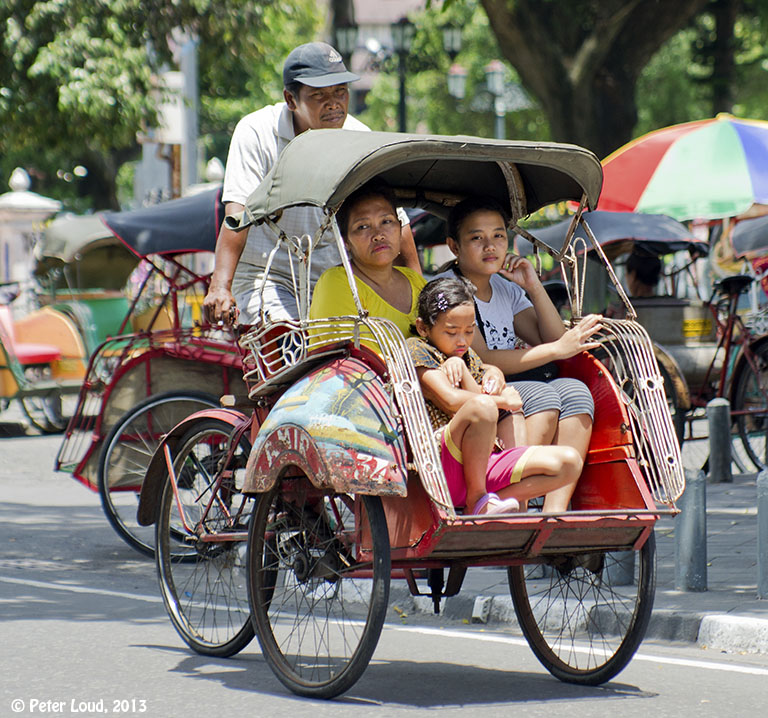 Love Letter from my Two Chambered Heart
This morning I thought I was having some bizarre dream with super loud speakers blaring right next to my bed, vibrations shaking my core with Adele singing "Hello" at the top of her lungs.  Instead it was 5:45 AM and I was indeed awoken by a recording of Adele singing from across the rice fields (in English no less).  This rallying cry was for the whole neighborhood to rise up and gather for go for a two hour walk together through the village, before the heat of day melts the locals and the traffic on the road makes our mass migration impassible.   My friend said it was for relaxation to go together, a Sunday morning stroll, and for sure no one broke a sweat because we all ambled so slowly, not unlike the protest marches many of us participated in recently in the US, just a little bit different.  Being a head taller than most, I got to take in the sea of folks in front and behind me 500 plus, out for a casual stroll with their neighbors, winding back alleys and small lanes, so happy to be included as part of the village.  Now home again, encamped back in my room, I can hear there is a small but blaring concert and sing along for the kids across the rice field; what started with Adele at before dawn now is bookend with the sweet sounds of Balinese children singing and laughing and celebrating.  Simply stated, I love it here.
I arrived less than two weeks ago, but it seems like forever.  Having a two chambered heart home, I so appreciate that both sides need blood flow to them in order to thrive, and I am eternally grateful that they work in harmony with each other; also that my beloved Bill supports this strange duality.  But my American side has fallen ill, and in truth, since my arrival, I have been on a strict black out of all US politics.  This strong and essential medicine is for my heart, the side sickened by the state of the world, my home country in particular.  Indonesia has had its fair share of megalomaniac leaders over time, and could teach us a thing or two about corruption and business leaders in bed with the political elite, so nothing really shocks them about our new regime change.  Being away from home at this time, fully committed to my denial, feels like a gift for sure, but one whose prescription will only last a few more weeks until I return to US teraferma.  This retreat is an elixir for my soul.  Perhaps it will refuel my stamina for the work to be done back home.  I can only hope so.
My trip started in Yogyakarta this year, allowing myself to wade in my beloved homeland by way of the slower moving Javanese, flowing into a city of 5 million like molten wax that is the foundation of the batik tradition there, pulsing through my veins.  The cars, buses and motorbikes crowd the roadways much more than they used to when I lived there 25 years ago. This confirms my favorite mode of transport still to be the local becak (ba-chack, identical to the one I have at my show each year) the classic pedicab motored by drivers peddling from behind on bicycle with a two seater carriage in front.  On my first morning in Yogya I sussed out my options for becak drivers on the local corner, and the selection was lean.  Instead of choosing a seemingly younger one relaxed in his parked pedicab, I instead buried my ageist tendency and opted for the older skinny man calling to me in hopes of making a good fare from a Western tourist.  As he propelled my large body up a slow grade hill with the ease of a highly toned athlete, I asked him how old he was.  Sixty seven, he answered.  Bill says Indonesians either look under 25 or over 75 therefore you can't really tell their age.  This old soul looked like he had perhaps shuttled the original Dutch colonist back in the day, wizen with a toothless smile from ear to ear.  How long had he been driving a becak? I asked.  Not long, he said, only since 1975.  At that, I immediately insisted to get out and walk alongside him as we began to ascend a slightly bigger hill.  No way, he would hear nothing of it, as if I insulted his mother assuming he and his melon calves couldn't push my over sized white frame wherever he agreed to take me.  So I sat, feeling even more humbled, and paid him double the fare when I we got to my destination.  With the advent of taxis, much cheaper, faster and without having to inhale all the city fumes you get in the front of the open becak, this mode of days gone by will be relegated to our memories in the very near future.  Already I notice this year many of these treasures had motorized scooters behind them, like motorbikes becaks, with the younger drivers happily zooming past their old stoic fathers who still self-propelled their chariots, methodically weaving their way in and out of the traffic with grace.
Flying home to Bali from Yogyakarta takes about an hour above the clouds.  Luckily our flight path had a fairly clear day last week so I could gaze below at Java, the most densely populated island in the world crowded with over 140 million people living in crowded giant cities, side by side fertile agriculture lands that supply almost enough rice for the masses daily diet.  Off the jagged coast line to the north and in the strait between Java and Bali, small atolls and tiny islands pepper the sea, reminding me that in theory there are over 17,000 islands making up this vast archipelago, and yet only a bird or on a traveler  as myself that day, could I really visualize this reality.  I saw rocks with dragon back ridges poking out of the shallows, the reefs breaking waves swirling around making glorious patterns of fluid foam.   On land when I take in the splendor of a mountainous volcano rising on the horizon, it is beyond awe inspiring; but from the sky above imagining the lava erupting over the ages, and the shifting tectonic plates under the sea, who together organically created this clunky string of islands, I can't help but wonder about mother nature and her work ethic.  Amazing she is, continually transforming her landscape with powerful, powerful storms some we have witness in our lifetime, a hairline blip on the timeline of her creations.  As we approached east Bali, the majestic Mt. Agung (9,985 ft.) poked her cratered tip out of the fluffy clouds that skirted her mountainside as if to say hello, welcome to Bali.  The Balinese believe that when the active volcanoes let out little puffs of smoke occasionally, teeny tiny expressions of steam that release some of the buildup of an inevitable larger caldron of hot lava waiting to erupt, that this is good and welcomed.  Much like when we humans vent our frustrations over time as opposed to holding them in and building up to great spurts of anger, which is rarely very good.  More lessons to learn from Mother Nature.
Just now I returned from spending the afternoon with my old friend at his organic farm up in the mountains.  As soon as we got there, an hour in the car on the twisty turny small roads up up up, the skies opened up and the winds whipped the rain sideways.   Cold and wet we sipped Balinese sweet coffee made for us by the farmer's wife and as the workers moved about slightly sheltered from the rain by their natural umbrellas of huge long banana leaves held aloft by their handle stems.  Seeing the fertile and productive gardens they have created to grow all the veggies for their restaurant, made me really long for my garden gone by.  But it also inspired me to come home and make my little new garden that Bill and I have, into a verdant little Garden of Eden, homage to our Bala land and in the spirit of the old Balinese farmers out in the rain with sweet grins on their faces.   I will carry their spirit with me home, fuel for the other side of my two chambered heart.