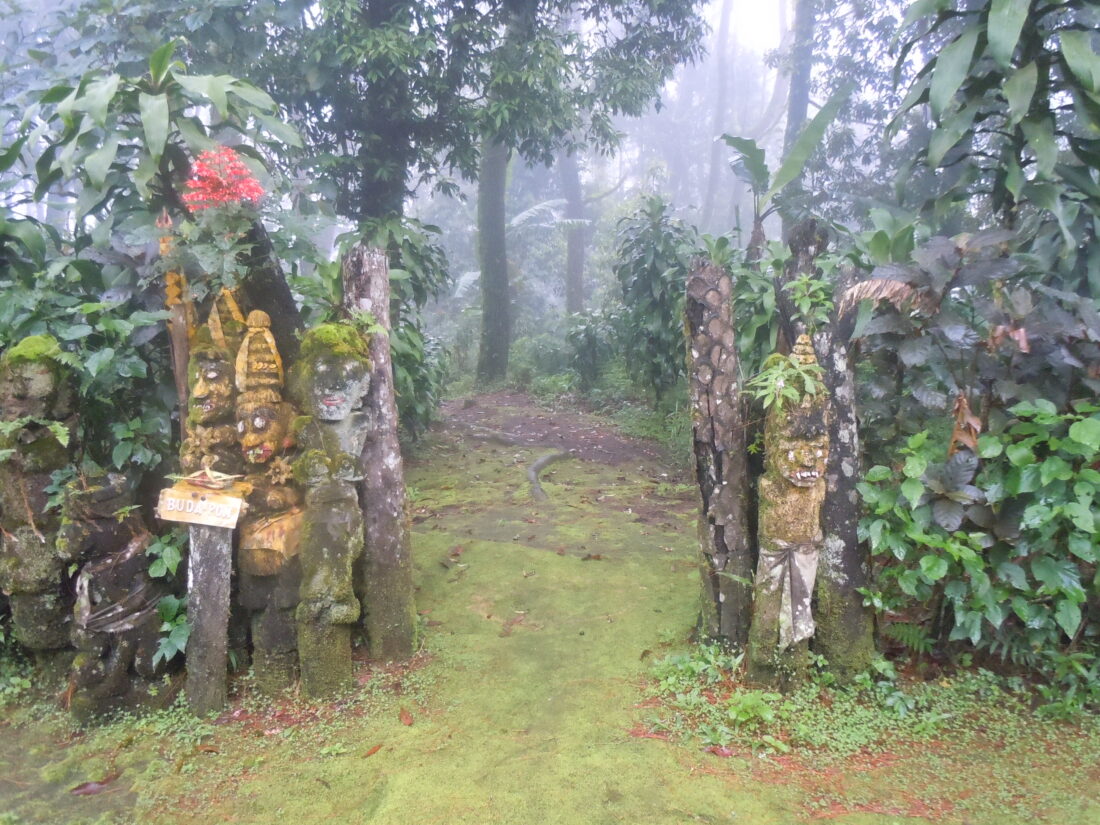 Love from Bali and Flores, with my loves Bill & Daniel
It is Sunday here, late in the afternoon, and I can't believe I have been here for one day more than a week – it feels like years.  Actually it has been 24 years since I first arrived here and last night I stayed over at one of my favorite places in Bali, a magical spot up in Kintamani that I first visited on one of my very first trips back oh so long ago.  Perched on the rim of the calderas is my friends/families home/hotel where we had an art opening/party for one of my dear friends Kerry – and danced away the night to "the best band in Bali" (it really was fantastic) as the clouds rolled in, totally ensconcing us.  Kintamani has never seen a party like that before.  I awake at dawn floating on the clouds and it wasn't until the morning sun started to heat up the fog, did it burn off to delight us with the majestic Mount Batur and Lake Batur below.  Stunning landscape, one of my favorites in all the world.  Wearing socks and a sweater I headed up to breakfast, a tad freezing in the 50ish degree weather.  Could be back home, non?  Instead I sat in the open air lobby of the hotel, floating in the clouds, on a borrowed lap top, sitting side by side some of the local boys as they checked their facebook pages.  The contrast between my distant memories of a time where there was no electricity up here in the mountains, and the cackle of the boys in Balinese as they bridge the electronic world, strikes me as bizarre.  So bizarre, at that very moment the power failed and I lost the long e-mail I had written you all.  I am not blind to the lesson at hand.  Get off the computer when up in the clouds.
Our gang spent the morning hiking up the side of the mountain through the forest to a small, totally magical, temple.  This tiny temple on the side of Mount Abangwas filled with small primitive sculptures made out of old wood and ferns in the faces of the mystical faces that protect the mountain.  As the light rain fell down we transcended back down the side of the mountain, I was floating on my own elated clouds….still am many hours later.  Now, home Ubud, my base in Bali, the temp has returned to the norm of 90 and I am one happy sweaty soul.  Someone has to choose to lead this wonderful life of mine, and I choose me!
I promise to write more later after I finish my work.  Off to Java in a day or so to shop shop shop and play, then upon my return meet Bill and Daniel at the airport.  And now, before I loose my exterior power source again – my internal one is totally turned on and strong – I will send this short happy note to you all to remind you all how much I love you all.  Even half way around the world, and though I am totally HERE, I think of you all and wish you were here.
_____________________________________________
Early AM April 29, 2011
Pagi.  My tired body cannot sleep as it still thinks it is the middle of the afternoon somewhere south of the equator.  Here, somewhere in my sister Sharon's big house in the western burbs of Chicago, it is not.  After 14 separate flights getting me to, around, and out of Indonesia in the past six weeks, the very, very last leg of my journey form Chicago home to Philly, the flight was canceled.  I am now gifted with this wonderful surprise 24-hour reprieve, layover rest day with Sharon.  It is ironic that after flying from Flores (the island where Bill, Daniel and I spent our last week) home to Bali this past Monday on a propeller jet most of our friends in Bali were predicting would most likely be canceled — and therefore we would have missed our International flight home the next day – it actually left Labuan Bajo airport 5 minutes ahead of schedule, and sailed us up smoothly above the islands at 16,000 feet the whole way.  Figures.  I remember that when we/I often have higher expectations in the "developed" world and when things go wrong, we piss, moan and bitch.  But when things go so often awry in Indonesia, we expect it so, and hence go with the flow (are you listening Connie?).  Airplanes barely meant to fly from island to island in Indonesia run smoothly while leading US carriers ground their flights at the slightest hint of trouble.  This irony is not lost on me – a twisted way of revealing hidden lessons.  At the end of this magnificent trip, I am forced to take this lesson to heart, one I will try to practice here in my "first world" the same as do in my Bali world.  Flow.  Please remind me of this as the months and the glow and my tan fade a bit.
After two weeks of power shopping and delicious reunions with old friends, I zoomed home from Yogyakarta to fetch Bill and Daniel from the airport in Bali.  Reunited with my boys we began the "vacation" part of my trip, quickly falling into the pattern of running around between good meals, old friends, new sites to explore, and old haunts that we love, it is as if we always have lived in Bali as a family.  We packed too much in to recount, so I won't bore you with details of our daily Bali life laced with cooling swims in endless pools, chilled watermelon juice and hikes up volcanoes to reveal sites not to believed.  Instead just imagine us happy and smiling and missing you all.  However let me indulge you and invite you with us on our past weeks journey to Flores, the big adventure of this years Indonesian vacation, and one I will remember for a lifetime.
I first visited the island of Flores in 1988 on a ship during my initial exploration of the islands.  Just a few hours in port there, I heard tales about the magical mountain of Kelimutu encrusted with three volcanic lakes up top that were colors not to be believed.  For 23 years I had dreamed of going there, and taking my boys.  We arrived in the small town of Ende, Flores flying into the tiny airport where the luggage was off loaded from the plane into an old pickup truck which then backed up to the arrival room (such as it was) and piece-by-piece unloaded onto a short conveyer belt.  Outside we were greeted by Charles, a sweet, smiling local boy – 24 but looked much younger – who was to be our guide, driver and protector for the next week as we traveled overland across Flores.
Our first night sleep was broken early as we woke at four to drive an hour up the mountain to begin the pre-dawn hike of Mount Kelimutu in hopes of seeing the sunrise over the lakes.  It had been raining for weeks in Flores and Charles lightly warned that the fog had not cleared for visitors to see the lakes for some time.  With my sleepy expectations in check, we hiked without flashlights up the path in the cold and a half a sleep Daniel by the light of the hazy moon, just past full.  Once up top, we huddled together to stave off the light rain, and let the fog and other tourist seep in and around us.  A shimmer of light began to break through and all of a sudden, as if the special effects had been pre-ordained, the fog lifted and all three lakes became exposed – in all their glory.  I immediately began weeping, as did my sweet Bill, because I had dreamed of seeing this site for so long. The color is unimaginable – a bright, almost florescent sea foam green that seem to be lit from below with deep rock cliffs jutting up out of the water.  The one darker deeper black colored lake seem to be the step child, not nearly as stunning in color so ignored in light of her stunning sisters.  But it is she though that holds the folkloric memories of the locals, who's color changes due to the unrest of the political forces in Jakarta, and that lures locals down to the edge (the other two are surrounded by shirr rock walls) to test the waters as well as to suicide themselves (the Indonesian translation).  I was more captivated by the more majestic two, as they seduced me to take photo after photo after photo.  We were some of the last few to begin our decent down just as the fog rolled back in and the light rain began to build.  Later we heard stories from fellow travelers that in the few week prior, and the one following our auspicious visit, no one saw the top of Kelimutu as we did; for that day only did the clouds part and share us with the Lakes and the Mountain with us.  We were the lucky ones, non? I do feel so fortunate to have witnessed such a spectacular piece of our earth.  Manifest your dreams I say!!!
The next 5 days we drove on the Flores Highway from east to west on the most hairpin turned two lanes, sometimes one, road I had ever been on.  I think we traveled in total about 300 Km, about 4 hours a day of driving broken up by coffee stops on the side of the road, waiting for the water buffalo and chickens to cross, the goats to rise up from the afternoon sleep on the side, the huge trucks in first gear glugging up the steep inclines, flooded rivers and rockslides skirting the road – all the while taking in the most striking  landscapes of river valleys, high volcanic peaks jutting out of the juggles, rocky coast line with waves pounding the beaches.  Though it sounds like I should write copy for a travel guide to Flores, this was really such stunning landscape and off the beaten path for most travelers, I am still blown away.  One morning we hiked with Charles through a very poor village up a muddy, muddy path where our sandals were so slippery that Bill and I instead walked barefoot through the cow and buffalo poop as the mud squished between our toes (never have I ever walked barefoot where I was not concerned for a moment about stepping on a piece of glass or garbage or something).  Only the farmers who bring their cattle up to the higher lands to graze traveled this path.  We were the cattle out on a lovely walk.  Once up top, the rain and the fog did not part like on Kelimutu – we did not get the astounding view we might have – but this walk was for the sake of the journey, not the destination.  I marveled to Daniel and Bill that I don't think I had ever been so far away from "civilization" or other travelers (white people), and to really soak this in.  Out for a walk we were, just the buffalo, the locals, and us.
Flores is strongly Catholic, long ago and still present day missionaries influence the island heavily, with churches popping up in every small village and town.  It was particularity wonderful to be there around Good Friday and Easter to see everyone all dressed up in their Sunday best going off to Church.  One highlight of our journey was the night we stayed in Ruteng at Saint Marias Convent, one of the nicest accommodations on our trip.  It was clean, almost austere, landscaped beautifully, with a very, sacred feeling with sisters milling about smiling politely at us as they passed by.  I implored Daniel and Bill to be on their best behavior while we stayed there, and they did try, which is to say they kept their sacrilegious humor to a bare minimum.  We actually fell into a sweet way of whispering the whole time, even when the three of us were alone in our room.  The convent sat up high on a hill with beautiful views of the valley below.  It was a real treat to stay there, and I think we all gain some spiritual points and insight from the experience.  Though I don't think Bill and Daniel could have lasted more than another day forced by Mother Laura to be on good behavior.
Bookend at the other end of our trip was Daniel's dream to see the Komodo dragons, and we did.  Once in Labuan Bajo, the jumping off town on the west coast of Flores, we settled into our accommodation, a villa up on the hillside overlooking the harbor and expansive island-scape below.  Stunning place, homey, and quite a treat to end our journey.  To meet the dragons we hired a small prau, or fishing boat, with an English couple we had met along our travels.  We sailed early in the morning along side the atolls, reefs and islands that make this part of Flores world famous for scuba divers and snorkeling.  After two hours we docked at Rinca, one of the National Park Islands where the dragons are protected, and which offers guided tours of in their habitat.  Only 10 minutes into our hike did we see our first dragon, sunning himself on the dry plain.  They look almost prehistoric and animated at the same time, and though a bit creepy, I do think I would have a beer with one at the pub.  Kind of sloth like, they can run a mean clip up to 18 km an hour, but their casual swagger is more John Wayne than T-Rex.  They slither their tongue to smell and it is their poisonous salvia that causes septic and kills their prey more than their bite.  We walked with our guide and his big stick to ward off overly curious critters, though the dry Rinca landscape.  The heat of the day got to us, as well as to the other animals, and our wildlife sightings were more the relief hoof prints left in the mud from the buffalo, wild pigs, deer.  We did see at least a dozen dragons, with one aggressive interaction between a larger and a smaller pair.  Beyond memorable.  On the boat ride home we stopped to snorkel in amongst the colorful reefs and fishes.  Daniel loved it as he said it was like playing in a live Finding Nemo video game.  The colors of the fish were more brilliant in the flesh than painted on cellophane in the movies.  Hot and satiated from the day, Bill and I slept on the tiny foredeck of the small boat on the ride home.  Quite a cruise it was.
This past Monday we flew back to Bali over the very reefs that we swam in just the day before.  For 24 hours we ran about finishing up last minute business and saying our goodbyes to our loves, before we finally, and sadly, flew onto Hong Kong and then the US.  Now back on local soil, I must begin the re-entry process that I commit to each year.  Returning late in April, deep into the springtime, eases me a bit as the trees look to be leafing out and some flowers bloom to help sooth my soul.  Soon we will plant the garden and the vibrant greens of Indonesia will mix with the green grasses of our suburban yards.  If I am really creative, I will try to imagine the water in our local Belmont Hills Public Pools to be the fantastically colored lakes of Kelimutu.  One can always dream, non?
Home again home again.  Sending all my love and dreams your way.
Laura