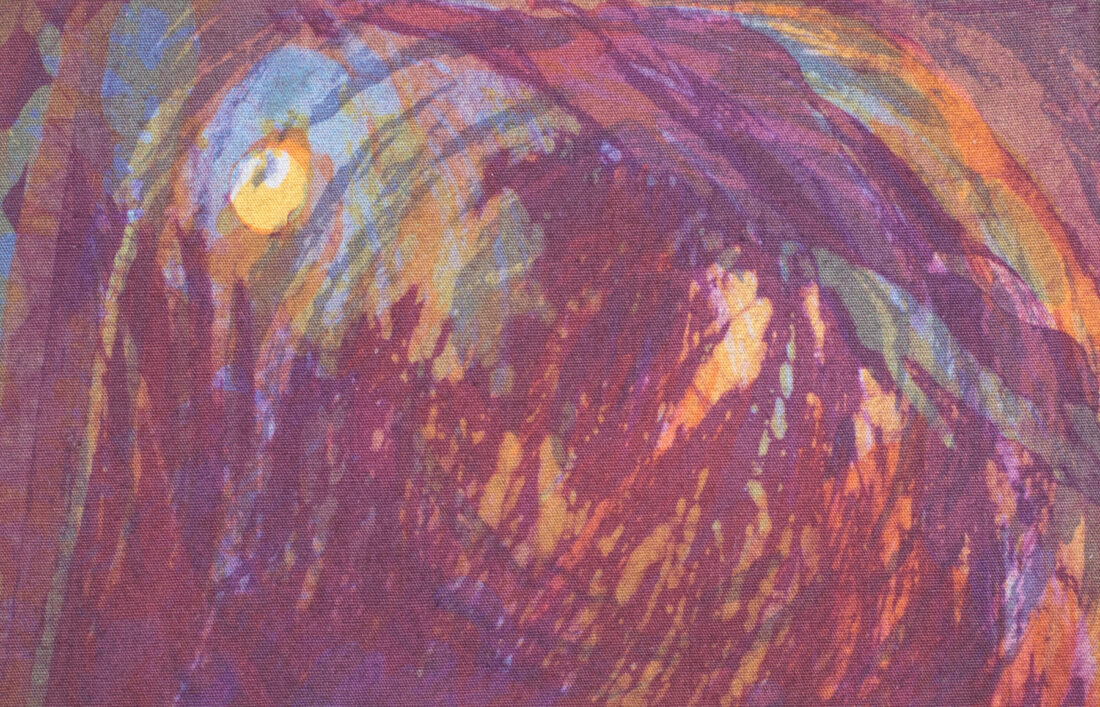 Worlds Mingle, Harmonize in Painter's Works
Michael Haynes, St. Petersburg Times
Painter Laura Cohn knows what it's like to be caught between two worlds – and then to successfully come to terms with their differences, be infected by the beauty found in each, and in the end, find some symmetry between them.
The Philadelphia resident, recently back in the United States after five years in Indonesia, opened an exhibition of her work Friday at the Cherokee Club in Ybor City. Indonesia in Ybor is a collection of recent works reflecting the elegant harmony of two cultures.
Cohn 31, has managed to combine the ancient art of making batik with contemporary painting methods. Traditionally, batik (a wax-resist textile dyeing process perfected centuries ago by Southeast Asian artisans) is more decorative in nature and is characterized by often complex, organized patterns. Cohn has eliminated much of this ornamental quality by applying the wax in a loose, painterly fashion that accentuates action and movement within each composition.
Cohn's work borrows heavily from the French Impressionists. Elements made famous by the likes of Claude Monet and Vincent Van Gogh abound. Unabashed brush strokes swirling and dancing throughout her compositions, combined with the vibrant palette typical of that genre, speak of masterworks past, etched into memory by some distant art history lesson. Faceless heavy-figured nudes that would have made Henri Matisse proud make up much of Cohn's figurative pieces. They easily are the strongest portion of this body of work. The nudes, all of them women, imply a certain stoic strength and stability, and yet are still shrouded by a soft sensuality that seems to reflect the artist's feelings toward feminism in its modern context: that of Woman, strong and self-assured, yet not held back by vindictiveness or fear of femininity.
In fact, this strong and self-assured quality is partly responsible for Cohn's move to Indonesia. After completing a bachelor's degree in human ecology (with a focus on fine arts, arts advocacy, social reform, and feminist theory) in 1988, at College of the Atlantic in Bar Harbor, Maine, she applied for a fellowship to continue her work abroad. She didn't get the grant, but wound up working for an artist's union in Melbourne anyway.
After learning of strong community and state support for the arts in nearby Bali, Indonesia, Cohn moved to Denpasar where she worked as an administrative assistant for the Bali Human Ecology Study Group at Udayana University Medical School, and served as consultant for several ecological projects.
"It was eerie at first," Cohn said. "I had never been to an animist culture. I thought it was lusty and strange; they were making these offerings all the time and the music … The cacophony of the whole thing gave me the chills for a couple of weeks. Then something shifted. It became extremely intriguing."
After a couple of years in Bali, Cohn moved deeper into the Indonesian archipelago to Yogyakarta, Java.
It was during her immersion in her Javanese studio that she perfected blending traditional batik methods with modern painting techniques. The artist draws a parallel between the two forms in that she derives the same sensual feeling from flowing hot wax onto the batik fabric as she did in her previous work applying oil paint to canvas.
Time away from her longtime fiancé and their wedding this June played the major role in Cohn's decision to return to the United States.
Cohn reflects that the timing was right: "I feel at ease in certain environments, and I felt very comfortable (in Indonesia). When I was in Java I lived on the edge of a village. I would walk down the street and the little kids would always yell and always call me tamu, which means guest or foreigner.
"And that's a sweet, wonderful thing, but it gets irritating. You just want to blend in after awhile. There's no such thing as anonymity there, so it's kind of nice to come back to the land of anonymity."